Image Viewer
By Abacus Industries Inc.
Click on "Download Now" button under Icon to download this content for Free
Description
Image Viewer is a simple and fast way to view images and photos. Quickly view all images for an entire folder and subfolders. View in windowed or full screen modes and enjoy full screen slide shows. Users can navigate using mouse, trackpad, and keyboard. 

Features:

- Open an image file or an entire folder
- Drag an image file or folder into Image Viewer
- View single images or thumbnails
- Adjustable thumbnail size
- Search sub folders for images
- Zoom to fit, actual size, zoom in, zoom out
- Scrolls zoomed images and large images in actual size 
- Full screen mode
- Slideshow with preferences for customization
- Supports retina display
- Supports trackpad swipe
- Supports mouse scroll wheel
- Mouse scroll wheel to advance images
- Mouse scroll wheel zoom when shift key is pressed 
- Keyboard shortcuts for most functions
- Open in Finder and with Preview
- Open from and share to Photos 
- Set image as desktop picture
- Move to trash to delete images
- Image Info window with EXIF data
- Safe sharing removes metadata before sharing
- Plays animated gif files

Preferences:

- Upsizing images
- Loop through
- Showing file names in thumbnail view
- Searching subfolders
- Size app to first opened image
- Size app to each image
- Reverse scroll wheel advance
- Launch app in Full Screen
- Dark gray or black background - Full Screen
- Dark gray or black background - Windowed
- Fade during slideshow
- Random order slideshow
- Don't sleep during slideshow
- Slideshow delay time


Supported Image Formats: 
jpg, jpeg, tif, tiff, gif, png, psd, bmp

Supported RAW Image Formats:
nef, cr2, arw, raf 


Image Viewer is a great way to look at your photos and images. Just give it a try!

We'd like to know how to improve Image Viewer, Contact us at Abacus Industries http://www.abacusindustriesinc.com
...More
What's new in Version
2.1
- Updated for macOS High Sierra.
- Minor bug fixes.

Please leave an updated review to help us improve the app. Thanks for your support!
...More
Customer Reviews
This is my must have app!
I have tried many image or photo viewing programs in the past and was very happy to find this app. It can load thousands of photos in just a few seconds. It supports the RAW files from my DSLR camera and shows the EXIF information. I really like the layout, keyboard commands, mouse scroll wheel support, and user preferences. The interface is simple and works great! Update: Really like the changes to the app and backing up during a random slideshow is great!!!
Great Image Viewing App!
This is the best Image Viewer that I have used. Easy to use and preferences make it easy to customize to my needs. Love that you can work on two monitors now. Animated GIF support makes it even better! Thank you for adding raw file support and thumb nail sizes! Easy to use and does everything I need!
Great app
This Image Viewer does everything I need. It is super easy to use and I love that you can set the thumbnail size for both full screen and "windowed" screen. Thank you for adding RAW file support and animated GIF support. This is a great app for viewing pictures.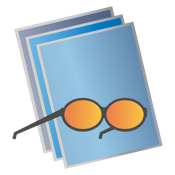 Download for Free
4 Archived versions available
This app is designed for OS X
Mac App Store Price: $3.99

Category:

Photography (Mac)

Updated:

Nov 22, 2017

Version:

2.1

Size:

2.9 MB

Language:

English

Seller:

Abacus Industries Inc.
Copyright © 2013-2017 Abacus Industries Inc.
Requirements: OS X 10.10 or later, 64-bit processor