Calculator Pro+ for iPad.
By Apalon Apps
Click on "Download Now" button under Icon or Open AppAddict app on iDevice to download this content for Free
Description
Calculator Pro+ for iPad is designed for everyone looking for simplicity and functionality. You can enjoy using a standard calculator for basic operations or extend it into a scientific one for more complex calculations. Just tilt the device into landscape mode! 

Need to convert one unit to another? With the intuitive and beautifully designed converter you can easily switch between currencies, temperatures, length, speed and other numerous units.

Features: 
• Two modes are available: do basic calculations in Portrait Mode or go advanced in Landscape Mode
• Degrees and Radians calculations
• History Bar: see your full calculation history directly on the screen
• Track Calculations History: view, save, delete selected equation or clear all
• Universal converter with 19 categories, including: Currency, Length, Time, Weight, Pressure, Temperature, Area, Data Size, Energy, Force, Frequency, Power, Acceleration, Density, Angle,Typography, Volume, Fuel Consumption and Speed
• Handy text search to find categories and units instantly
• Multitasking mode: bring in Calculator Pro+ while viewing web pages, photos, taking notes and more to get results instantly!
• Calculator Pro+ is now accessible via VoiceOver as well
• Pick the look from a bunch of skins to suit your own preference (Modern, Rose, Wood, Old, Doodle, Minimalistic, Zombie, Yellow, New Year)
• Memory buttons to help you out with complex calculations
• Accidentally input the wrong number? Just swipe with your finger to edit it!
• Copy and paste results and expressions directly into the current calculation
• Comment equation, e-mail calculation results and comments

Now you can do calculations on the go seamlessly!

For complete access to all Calculator Pro+ features, you will need to allow access to the following:
*Location data - this will enable automatic currency selection in the Converter.

Privacy Policy: http://apalon.com/privacy_policy.html
EULA: http://www.apalon.com/terms_of_use.html
AdChoices: http://www.apalon.com/privacy_policy.html#4
...More
What's new in Version
5.1
- Performance and stability improvements for flawless work on iOS 11.

Thank you for your continued support and comments submitted by email! Don't hesitate to share your impressions and feedback with us via [email protected]
...More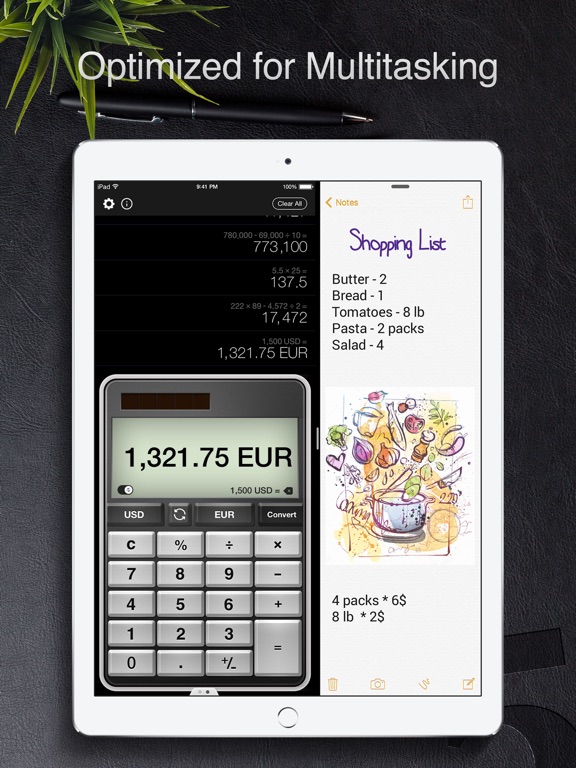 Customer Reviews
Great app!
Love this app from top to bottom. I was also impressed by the customer service given to me a few weeks ago. I had contacted them about an issue that came about with the new iOS. They said they were working on a fix. A week passed and I received a follow-up email letting me know that my issue was fixed in their new update. Only thing I would add is having more options when it comes to customization of the calculator, having additional skins would be nice. Highly recommend this app to anyone who is looking for a well made, professional calculator.

Keep up the good work guys!
...More
No pop-up in Pro Version
If you upgrade from the free version, you must delete the old icon and open in new icon. The upgrade does not occur in the same icon. So if you are still seeing pop ups you are still using the free version.
Serious Input delay
Every time I start the app, return to the calculator from another app, or even return from a menu within this same app, the first Key I press on the calculator takes about a second to register visually and by sound. It's pretty annoying. Would be 5 stars otherwise.
Download for Free
9 Archived versions available
This app is designed for iPad only
iTunes Price: $2.99

Category:

Utilities

Updated:

Nov 20, 2017

Version:

5.1

Size:

93.3 MB

Language:

English, Arabic, French, German, Italian, Japanese, Korean, Portuguese, Russian, Simplified Chinese, Spanish, Thai, Traditional Chinese, Turkish

Seller:

Apalon Apps
© 2014-2017 IAC Search & Media Technologies Limited
Requirements: Requires iOS 7.0 or later. Compatible with iPad.