iA Writer
By iA Labs GmbH
Click on "Download Now" button under Icon to download this content for Free
Description
"Beautiful and simple" ***** The Guardian
"Everything goes away except for the writing experience" ***** Stephen Fry
"Writer has out-innovated Apple" ***** Fast Company

Best of App Store 2011, 2012, 2014, 2015

# Unmatched Writing Experience
iA Writer is designed to provide the best digital writing experience: Keep your hands on the keyboard and your mind in the text.

# Embed Pictures, Tables and Nest Textfiles
Include images from Library in your documents (.png, .gif, .jpg)—images are uploaded to Medium and WordPress when sharing a draft. Include comma separated value files as tables in your documents (.csv), or create advanced tables using MultiMarkdown. Build a manuscript from several chapters, embed source code files as code blocks, or nest text files into each other.

Note: Embedding only works for files in the same folder (or subfolders) as the master file. You can't embed files in a parallel or higher directory.

# Swipe Right to Library
iA Writer now comes with an integrated library for all your documents. With a swipe to the right you have easy access to all your texts in one place.

# Swipe Left to Preview
With synchronized scrolling Preview, iA Writer consciously separates form and content. It optimizes plain text writing while offering stellar formatted export—with world class typography.

# Focus Mode and Syntax Control
iA Writer is famous for offering a deeper focus on your text. Its unique tools improve your writing style by honing your concentration: One sentence at a time, or by highlighting different parts of speech.

# All Your Documents on All Your Devices
With seamless Dropbox and iCloud sync, iA Writer keeps your documents safe and at hand on whatever device you are using when inspiration strikes.

# Features
- Integrated document Library
- Synchronized scrolling Markdown Preview
- Beautiful Preview templates with curated fonts
- Add your own custom templates too
- Focus Mode fades all but the current sentence, for maximum concentration
- Convert formatting to Microsoft® Word .docx, and back again
- Also export formatting to HTML and beautifully styled PDF
- Share drafts to Medium and WordPress
- Auto Markdown formats text on-screen
- Night Mode
- Real-time iCloud and Dropbox sync
- Reading Time; plus sentence, word, and character count
- Customized for Retina displays
- Handoff support
- Full screen for total immersion in the text

# Contact
- Visit ia.net/writer for more information
- Visit ia.net/writer/support for support and feedback
- Let us know what you think on Twitter @iAWriter

We look forward to hearing from you…
— Information Architects Inc.
...More
What's new in Version
4.1.3
- All hell breaks loose: iA Writer now comes with an additional duospaced font. Latin characters only for now. Configurable in Editor preferences
- Added actions to create blockquotes
- Renamed File > Open Quickly to Window > Quick Search
- Added support for TeX math expressions in all templates
- Added smart tables, for example: =(2 + 7) or =(TOTAL)
- Fixed an issue on El Capitan which prevented launch
- Fixed an issue where PDF header and footer pages reported incorrect paper sizes
- Fixed an issue where non-Latin characters could be hidden in code blocks
- Improved list indentation
- Included GitHub template with night mode support
- Improved text editing performance
- Improved stability
...More
Customer Reviews
I write more frequently because of this app.
I basically threw my money at the computer as soon as I saw a desktop version of iA Writer existed. The iOS version had already captured me, and being able to move between phone and computer was just what I needed. Every feature is built for writers, from easy and beautiful PDF exports to cloud storage to starting with a blank document ready as soon as the program opens. My favorite way to use it is in full-screen mode with Night Mode turned on, nothing but my words in white on a dark screen. I use iA Writer every day, and I'd go so far as to say that it's made me a more productive writer, just because it has simplified the writing process for me so effectively. (It's also been good to see it improve over time with smart and continuous updates, and my one and only request for support was answered quickly and solved easily.)

In short: I write more now that I have iA Writer on my machine, and I have never used a more elegant writing app. I'd give it 10 stars if I could.
...More
Thanks for NOT Renting Your App
I have dropped a well-loved text writing app, a competitor to iA Writer, and returned to iA Writer once again. The reason: you guys at iA Writer let us buy your software and be done with it. I will never rent rent software, which is all this new monthly subscription non-sense is about. When you rent software, you typically store your files in the over-rated cloud and become beholden to the software company. You typically don't realize when prices inch up. The company has you!

I greatly appreciate iA Writer not following this subscription path. Their app is solid, and I use it frequently across my devices with no issues.
...More
A very minimalistic yet powerful markdown text editor
I have tried many text editors and iA Witer is by far my favorite one. Clean and very versatile and (for me definitely an important factor) no subscription model. I have tried Ulysses for a while, but in terms of functionality and feel, iA Writer is the better option for me, also because of the cross-platform options it has.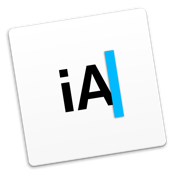 Download for Free
15 Archived versions available
This app is designed for OS X
Mac App Store Price: $19.99

Category:

Productivity (Mac)

Updated:

Nov 29, 2017

Version:

4.1.3

Size:

12.4 MB

Language:

English, German, Japanese

Seller:

iA Labs GmbH
© 2017 iA Labs GmbH
Requirements: OS X 10.11 or later, 64-bit processor