Total War™: SHOGUN 2 Collection
By Feral Interactive Ltd
Click on "Download Now" button under Icon to download this content for Free
Description
The supreme art of war.

Now supporting Shader Models 4, 4.1 and 5 on compatible video cards, improving edge smoothness, shadow maps and depth of field.

Before you buy, expand this description to check the system requirements below.

As leader of one of twelve competing clans, use political ambition, military brilliance and ruthless cunning to unify 16th century Japan under one undisputed shogun: you. Master your clan's unique martial strengths to triumph in spectacular real-time battles and dominate the turn-based campaign map.

With strategic gameplay inspired by the Samurai code of honour and striking graphics that evoke Japanese art and landscape, Total War: SHOGUN 2 Collection is a dramatic and detailed depiction of epic events and a unique expression of the Total War series' magnificent heritage.

Key features:

• Command samurai, ninja and warrior monks in spectacular real-time battles across snowcapped mountains, around fortified hilltop citadels and through fields garlanded with cherry blossom.

• Assert your dominance over a turn-based campaign map by developing infrastructure, researching new technologies and using clever diplomacy and covert agents to bend rival clans to your will.

• Act wisely in your negotiations, display mercy on the battlefield and follow the ancient ways of Bushido and Chi to earn honour, strengthen your generals' bonds of loyalty and improve your status with other clans.

• Refine your strategy with the help of an in-game encyclopaedia containing both gameplay information and historical detail, then execute it using an intuitive and beautiful interface inspired by Japanese woodcut prints.

• Contains all add-on content packs including the Rise of the Samurai Campaign expansion, which challenges you to establish Japan's first shogunate in a stand-alone campaign set 400 years before the events of the main game.


Important information regarding SHOGUN 2:

• If you require assistance, please contact our support team at [email protected]

• Minimum System Requirements: Processor: 1.8GHz, RAM: 4GB, Graphics: 256MB, Free Space: 22GB.

• The following graphics cards are not supported: ATI X1xxx series, ATI HD2xxx series, Intel GMA series, Intel HD3000, NVIDIA 3xx series, NVIDIA 7xxx series, NVIDIA 8xxx series and NVIDIA 9400.

• The following cards require you to have 8GB of system RAM: Intel HD4000.

• This game is not currently supported on volumes formatted as Mac OS Extended (Case Sensitive).


© SEGA. Creative Assembly, the Creative Assembly logo, Total War, Total War: SHOGUN and the Total War logo are trademarks or registered trademarks of The Creative Assembly Limited. SEGA and the SEGA logo are trademarks or registered trademarks of SEGA Corporation. Developed and published on the Mac by Feral Interactive Ltd. Mac and the Mac logo are trademarks of Apple Inc., registered in the U.S. and other countries. Feral and the Feral logo are trademarks of Feral Interactive Ltd. All other trademarks and copyrights are the property of their respective owners. All rights reserved.
...More
What's new in Version
1.3
• Improves graphics: the game can now be run using Shader Model 4, 4.1 and 5 on Macs with compatible video cards
• Fixes a number of minor issues
...More
Customer Reviews
Don't fix what isn't broken!
After this latest update, the game has gotten rather laggy when attempting to use the same settings I've always had, and takes 5 times as long to even start up the application. And then when I try to turn off the game for any reason, it locks up on a black screen with my cursor turning into an hourglass. I had to reset the computer to actually turn it off, for it was STILL trying to turn off after EIGHT hours! We already had settings for graphics, there isn't a point to upgrading them! As the title says, quit trying to fix things that aren't broken, and that doesn't apply to just this game. (I'm looking at you and your updates for ANYTHING, Apple Inc.!)
...More
Crash after crash after crash.
I have used Feral before on the Mac for Rome and Empire and have had no problems what so ever. Unfortunately with Shogun 2, I am hard pressed to get through an entire turn without it abruptly crashing for no apparent reason. It can happen on the map, after a battle, it makes no difference. I understand games can have issues and computer set ups can be different. But after emailing Feral's support team and leaving voicemails, I have recieved no response. Its been a few days and there has been nothing. From what I have played, the game is excellent as Total War games are, but this is unplayable and if nothing can be done I want my money back.
...More
Update made a difference
Since the new update, I have had no issues to this point with the game crashing. Have played several campaigns that typically would crash, but have not had that issue. Just completed the Date long campaign without any issues.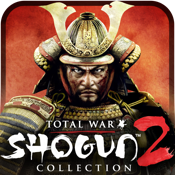 Download for Free
1 Archived versions available
This app is designed for OS X
Mac App Store Price: $44.99

Category:

Games (Mac)

Updated:

Jul 08, 2015

Version:

1.3

Size:

18.65 GB

Language:

English, Czech, French, German, Italian, Polish, Russian, Spanish

Seller:

Feral Interactive Ltd
© SEGA. Developed and published on the Mac by Feral Interactive Ltd.
Requirements: OS X 10.9.5 or later