Speak & Translate - Live Voice and Text Translator
By Apalon Apps
Click on "Download Now" button under Icon or Open AppAddict app on iDevice to download this content for Free
Description
Optimized for iOS 10! Speak & Translate is an indispensable voice and text translator that allows to communicate effectively in any corner of the globe. Instantly speak 54 languages and hold written conversations in more than 100 languages!

APPLE WATCH SUPPORT
Simply speak to your watch and get your speech instantly translated wherever you are! Enjoy voice to voice translation in 54 languages.

EXCELLENT TRANSLATION OPTIONS
* Apple Speech Recognition Technology support - real-time voice recognition significantly enhances the speed of your translations
* 117 languages for text-to-text translations
* 54 languages for voice-to-voice translations
* Language detection for text-to-text mode: if you don't know what the language of the source text is, select Detect language from the language list.

PERFECT USER EXPERIENCE
* Built-in offline voices: reduce Internet traffic usage and translate even quicker
* Multitasking option for iPad: translate simultaneously with working in other apps via Split View function.
* 3D Touch support for iPhone 6s and iPhone 6s Plus, iPhone 7 and iPhone 7 Plus: hard press on the app icon to quickly send text for translation
* Translation history always at hand: access previously made translations through Spotlight search results
* Useful widget that saves translations and serves as an offline phrase-book
* Handoff feature: translate without interrupting your session - switch from your iPhone to your iPad (or vice versa).
* iCloud integration: the history of your translations is synchronized across all your Apple devices
* Translate in portrait or landscape mode
* Voice settings: choose male or female voice and its speed.

Parts of service translated by Microsoft™. Parts of service translated by Google Translate™.

Speech to speech translations are supported between the following languages: Arabic, Basque, Catalan, Chinese (Cantonese, Mandarin, Taiwan), Czech, Danish, Dutch (The Netherlands), English (Australian, Canada, India, UK, US), Finnish, French, French (Canada), Galician, German, Greek, Hebrew, Hindi, Hungarian, Indonesian, Italian, Japanese, Korean, Moldavian, Norwegian, Polish, Portuguese, Portuguese (Brazil), Romanian, Russian, Slovak, Spanish, Spanish (Mexican), Swedish, Thai, Turkish.

Speech to text translations are supported between the following languages: Afrikaans, Bulgarian, Croatian, Filipino, Icelandic, Latin, Lithuanian, Malay, Persian, Serbian, Slovenian, Ukrainian, Vietnamese, Zulu.

Text to text translations are supported between the following languages:
Afrikaans, Albanian, Amharic, Arabic, Armenian, Azerbaijani, Bashkir, Basque, Belarusian, Bengali, Bosnian, Bulgarian, Catalan, Cebuano, Chichewa, Chinese (Cantonese, Mandarin, Taiwan), Corsican, Croatian, Czech, Danish, Dutch (The Netherlands), English (Australian, Canada, India, UK, US), Esperanto, Estonian, Filipino, Finnish, French, French (Canada), Frisian, Galician, Georgian, German, Greek, Gujarati, Haitian Creole, Hausa, Hebrew, Hindi, Hmong, Hungarian, Icelandic, Igbo, Indonesian, Irish, Italian, Japanese, Javanese, Kannada, Kazakh, Khmer, Korean, Kurdish (Kurmanji), Kyrgyz, Lao, Latin, Latvian, Lithuanian, Luxembourgish, Macedonian, Malagasy, Malay, Malayalam, Maltese, Maori, Marathi, Moldavian, Mongolian, Myanmar (Burmese), Nepali, Norwegian, Pashto, Persian, Polish, Portuguese, Portuguese (Brazil), Punjabi, Querétaro Otomi, Romanian, Russian, Samoan, Scottish Gaelic, Serbian, Sesotho, Shona, Sindhi, Sinhala, Slovak, Slovenian, Somali, Spanish, Spanish (Mexican), Sundanese, Swahili, Swedish, Tajik, Tamil, Tatar, Telugu, Thai, Turkish, Udmurt, Ukrainian, Urdu, Uzbek, Vietnamese, Welsh, Xhosa, Yiddish, Yoruba, Yucatec Maya
, Zulu.

AdChoices: http://www.apalon.com/privacy_policy.html#4
...More
What's new in Version
3.6
- Transliteration for languages with non-Latin alphabets - accept the challenge of instantly speaking and reading in a foreign language!
- We've optimized the UI to make every second you spend in the app even more productive
- The app is now also available in Danish, Indonesian, Norwegian, Polish, Swedish, Thai, Vietnamese
...More
Customer Reviews
The best translation app ever
I tried google translate but this on is accurate and I can type or say as much as I want without restrictions. Thank you app inventor, you helped me a lot. P.S. My students get a kick out of it because they say now I can learn their language
Indispensable app
I can no longer get along without this application. Being able to speak Spanish is absolute transformed our workplace. The Spanish-speaking people are very polite and will always say yes, yes, yes. But I guess that's not mean yes. Yeah you want to just bring them in here
Best way to learn a language.
Think it, say it, learn it. Sometimes it misses a word or phrase, but mostly it is amazing. It provides phrasing, idioms and how to pronounce.

It answered, "How different is Mandarin, Classical, and Cantonese."

I love having a fast and slow , male and female voice for French.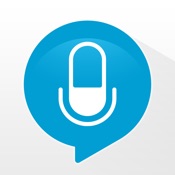 Download for Free
17 Archived versions available
This app is designed for both iPhone and iPad
iTunes Price: $19.99

Category:

Reference

Updated:

Jun 19, 2017

Version:

3.6

Size:

57.0 MB

Language:

Apple Watch: Yes

Seller:

Apalon Apps
Seller: IAC Search & Media Europe Ltd.
Requirements: Requires iOS 8.0 or later. Compatible with iPhone, iPad, and iPod touch.