BeatHawk
By UVItouch
Click on "Download Now" button under Icon or Open AppAddict app on iDevice to download this content for Free
Description
Portable Music Production Studio : create beats, compose whole tracks, sample, record, sequence, perform, mix and arrange your own music!

» Packed with high-quality UVI sounds, instruments and effects
» Use included UVI sounds, your own samples, or high-quality expansion packs
» Use with other Apps that support Ableton Link. Audiobus, AudioCopy and AudioUnits
» Export your mixes, stems, MIDI tracks or as Ableton Live project files
» Share with your friends on YouTube or SoundCloud
» Get your ideas out quickly, efficiently and sounding great no matter where you are!


STUDIO GRADE
» Designed to put professional quality UVI software into a lightweight and fun performance-oriented package
» Delivers extreme sonic fidelity rivaling desktop products
» Power, speed and flexibility make for ultimate ease-of-use
» Ensures fast, intuitive and professional quality music production

SOUNDS
» Including 2 factory sound packs with 2,000+ samples, 290 presets and dozens of loops
» Import your own sounds (support for MP3, WAV, AIF, FLAC, and M4A)
» Record using built-in mic, line-in or external devices
» Edit and tweak sounds with high-quality effects and ADSR envelopes
» Integrated sound expansion store (Acoustic Grand, Atlanta Urban, Funk, Brass Riffs, Asia, World Percussions, Vintage Blues Guitar, Electric Organs, Electro Pop, and much more…)

CONNECTIVITY
» Ableton Link, Inter-App Audio, Audio Unit v3 Plugin, Audiobus and AudioCopy support
» Transfer files via. iCloud, Google Drive, DropBox or OneDrive
» Paste audio directly to pads with AudioCopy
» External keyboard and MIDI-over-LAN support via CoreMIDI
» Jam with multiple devices using WIST Sync over Bluetooth
» Export stereo mix, stems, MIDI tracks or Ableton Live project file (file format: 44.1kHz 24-bit WAV)
» Share your music on SoundCloud and YouTube

FEATURES
» 16 track sequencer with up to 16 patterns per part
» Pad, keyboard and pattern performance modes
» High-quality pitch and time stretching
» Numerous scales playable in Pitch mode
» Step Editor mode with Note and CC
» Record using built-in mic, line-in or external devices
» Edit and tweak sounds with high-quality effects and ADSR envelopes
» Choke groups and One-Shot sample modes
» Bind parameters to MIDI CC with MIDI Learn
» Perform and record arrangements in realtime

SYSTEM REQUIREMENTS
» iOS 9+
» iPad 4 or newer
» iPhone 5 or newer (iPhone 6 or newer recommended)
» 950MB of disk space

www.beathawk.com
...More
What's new in Version
2.1.5
UPDATE: Allow UI to scale up in AUV3
UPDATE: Prevent app to go idle
UPDATE: Improved performance with AUv3
UPDATE: Improved performance on iPhone X
FIX: Sequencer sometimes miss events after changing pattern while playing
...More
Customer Reviews
Needs iPhone X update.
....
BeatHawk is a pretty decent way to make beats, but not much of a full production app.
It can't be denied UVI's sound libraries are exceptional, with the sounds found in BeatHawk being the same as those found in their desktop sample collections. But you will pay for those sounds, as the IAP price for just a few instrument collections quickly adds up to the mid double digits and beyond.

My problem with BeatHawk is that the interface is just plain unwieldy. Going from the pads/instr. keyboard to the sample browser is just not fluid and editing samples and trying to balance a groove is just very clunky.

You can create well produced music of multiple ELECTRONIC music genres, including hip hop etc. with BH. I say that because recording acoustic instruments or vocals outside of sampling a few seconds is not possible. Many of BeatHawk's competitors like iMPC Pro & BeatMaker 3 have evolved their apps from basic groove boxes to full fledged DAW's, capable of recording rock, jazz, whatever.

Unless UVI tightens up the functionality of BeatHawk to make it THE most seamless way to create beats, making it attractive to those intimidated by tons of DAW features, they will have a rough time convincing iOS music producers to reach for BeatHawk when they have iMPC Pro, BeatMaker 3 or better yet Cubasis or Auria Pro that can do simple beat production and so much more.

That being said, if you're a rapper or hip hop beat producer looking for a quick way to make beats, with some great sounds & the ability to use your own, BeatHawk is a good choice.
...More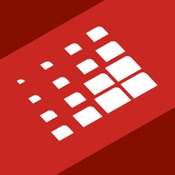 Download for Free
5 Archived versions available
This app is designed for both iPhone and iPad
iTunes Price: $9.99

Category:

Music

Updated:

Dec 29, 2017

Version:

2.1.5

Size:

1.05 GB

Language:

English

Seller:

UVItouch
2017 UVI©
Requirements: Requires iOS 9.0 or later. Compatible with iPhone, iPad, and iPod touch.
Top in-app purchases
808

$1.99

Atlanta Urban

$4.99

World Percussion

$1.99

Trip Hop

$3.99

Latin Percusion

$1.99

WestCoast Urban

$4.99

Funk

$4.99

Brass Riffs

$4.99

Guitar Loops

$4.99

Electro Pop

$4.99