Tropico 5
By Kalypso Media Group GmbH
Click on "Download Now" button under Icon to download this content for Free
Description
Return to the remote island nation of Tropico in the next installment of the critically acclaimed and hugely popular 'dictator sim' series. Expand your Dynasty's reign from the early colonial period to beyond the 21st Century, facing an all-new set of challenges, including advanced trading mechanics, technology and scientific research, exploration and for the first time in Tropico history – cooperative and competitive MULTIPLAYER for up to 4 players.

• The Eras - Start your reign during colonial times, survive the World Wars and the Great Depression, be a dictator during the Cold War, and advance your country to modern times and beyond. From the 19th century to the 21st, each era carries its own challenges and opportunities.

• The Dynasty - Each member of El Presidente's extended family is present on the island and may be appointed as a ruler, a manager, an ambassador or a general. Invest in the members of your Dynasty to unlock new traits and turn them into your most valuable assets.

• Research and Renovate - Advance your nation by discovering new buildings, technologies and resources. Renovate your old buildings to more efficient modern buildings.

• Advanced trade system and trade fleet - Amass a global trade fleet and use your ships to secure trade routes to neighboring islands or world superpowers, both for export and import.

• Explore your island - Discover what lies beyond the fog of war. Find valuable resource deposits and explore the ruins of ancient civilizations.

• All new art - All artwork has been re-designed from scratch to provide Tropico 5 with a unique visual identity. Choose from over 100 buildings from each of the individual eras.

• Cooperative and competitive multiplayer – Up to 4 players can build up their own cities and economies on any given island map. Players can choose to share resources, supplies and population or declare war on each other.
...More
What's new in Version
1.0.10
- Localization fixes
- Fixed issue with a Waterborne task
- Fixed issues with minimap drawing
- Fixed counting of discredited citizens in Mad World mission
...More
Customer Reviews
Worth the money IMO
I don't write reviews but this game is good. As somebody who has been looking for the best strategy games for years now, this game is pleasing. It definitely an upgrade from older versions. It just doesn't give you enough to do though. The campaign mode is pretty narrow and there aren't many different paths to take. However, I typically dislike sandbox modes but the one in this game is fantastic. Your tyrant can also have his/her own "family" and you can expand it like that. Very cool aspect as well.
...More
Awesome on my iMac
Since the latest reviews were in April, I had to do some research and found that if I purchase this and it doesn't work, that they do have a pretty good support and that Mac users were happy with this game. So I bought it and it all went perfectly smooth.
Was Nervous to Spend $40… Great Game!
I never write reviews. I was nervous to spend $40 on this game because of the 3.5 stars from other reviewers.

I played Tropico 1 at least 10 years ago. Got into Tropic 3 a few years ago and played from time to time.

Purchased this game recently and am blown away. I believe that this is the best Tropico yet. For anyone who is a Tropico fan or city builder fan this game is great. It seems more challenging than Tropico 1 or 3 but I am still new to it.

Highly recommend this game to anyone who is considering buying it.

-DC
...More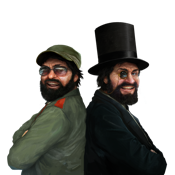 Download for Free
2 Archived versions available
This app is designed for OS X
Mac App Store Price: $19.99

Category:

Games (Mac)

Updated:

Jul 28, 2015

Version:

1.0.10

Size:

2.77 GB

Language:

English, French, German, Italian, Korean, Russian, Spanish

Seller:

Kalypso Media Group GmbH
© Kalypso Media
Requirements: OS X 10.9 or later
Top in-app purchases
Map Pack

Free

Waterborne

$7.99

Espionage

$9.99

Hostile Takeover

$9.99

Epic Meltdown

$9.99

Paradise Lost

$9.99