Fold Defy
By JixiPix Software
Click on "Download Now" button under Icon or Open AppAddict app on iDevice to download this content for Free
Description
Fold defies the 2D space with a powerful 3D engine

This professional app not only folds your image, using two types of bending options: FOLD and CREASE, but also distresses it with a CRUMPLE effect to give the appearance of crunched paper smoothed flat. Oriented in a 2D space, Fold Defy renders 3D popping folds with their perspective distortions and a realistic shadow for an amazing high-end result!

Gone are the long hours applying gradients and distorting shadows just to create a simple fold! With Fold Defy it is easy to fold a paper in half or into an accordion using controls to add horizontal and vertical lines with shadows to match–automatically. We have also included a manual crease tool that works by drawing a line across the image AND a powerful 3D lighting system to render natural looking surface lights and paper shadows by moving the on-document light around. This lighting system also supports the ability to set up multiple light sources and lets you independently control each one for times when multiple shadows are wanted.

Fold Defy is great on its own, bringing focus to the focal point on your image, but it is even better when used with Grungetastic, Simply HDR and other JixiPix apps! Now put your project time in the creative process and let us do the work for you.

FOLD STYLES

• FOLD - automatically adds horizontal and vertical folds with the ability to change fold direction
• CREASE - allows users to manually add creases and folds to the image by drawing a line where you want them
• CRUMPLE - automatically simulates a crunched paper smoothed flat with control over crumple scale and perspective

FEATURES

A powerful 3D lighting system to render natural looking surface light and paper shadow. It Also supports multiple lights (and shadows) and allows independent control over it's light color, shadow height and spread

INCLUDES

• 3D Fold, Crease and Crumple effect with surface popping shadows to match

• Crease Tool to add creases & folds by drawing across the image

• Powerful 3D Light Source for natural-looking highlights and shadows

• Library of photo paper textures

• Adjustable fold and crease crinkles

• Adjustable fold direction, width and surface height


UNIVERSAL FEATURES

All JixiPix apps come with: Superior customer service, support for high-resolution images & output, quick preview, undo/redo, a randomize button, ready to customize templates, and the ability to create and save custom presets.

Our mobile version can Email and post directly to Facebook, Instagram, Twitter, and Tumblr.

'Like us on facebook' for tips & tricks, quick announcements and interaction with the Jixi team! https://www.facebook.com/jixipix

***************

"JixiPix turns any photo into a masterpiece. The only requirement is art appreciation — we'll take care of the rest!"

JixiPix.com "Creative Tools for Creative Types"
Photography | Artistic | Graphic Apps
Mac • iPad • iPhone
...More
What's new in Version
1.12
Bug fixes and optimizations
...More
Customer Reviews
Crashes....
...every time I try and load a photo from my library
iPhone 7plus, latest OS
WTH?
I just clicked buy, didn't download.
Clicked buy again. I better not be charged twice. If I have to report it then the app won't be able to get updates (rep told me about this quandary).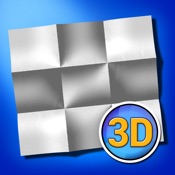 Download for Free
1 Archived versions available
This app is designed for both iPhone and iPad
iTunes Price: $2.99

Category:

Photo & Video

Updated:

Apr 25, 2017

Version:

1.12

Size:

49.6 MB

Language:

Seller: JixiPix, LLC

Seller:

JixiPix Software
Requirements: Requires iOS 8.0 or later. Compatible with iPhone, iPad, and iPod touch.