TIDAL
By TIDAL Music AS
Click on "Download Now" button under Icon or Open AppAddict app on iDevice to download this content for Free
Description
Tidal is the world's first music service with High Fidelity sound quality, High Definition music videos and Curated Editorial by music journalists, artists and experts, making for a simply superior experience. Try it out and see for yourself

• High Fidelity Sound Quality
No compromises. Just pure sound. With our lossless audio experience, you can enjoy your music the way the artists intended. Unlimited access to over 40 million tracks.

• High Definition Music Videos
Watch more than 130,000 music videos. No ads. No fuzzy images. Just crystal clear pictures.

• Curated Editorial
Find your next favorite with tailor-made recommendations, album presentations and playlists by experienced music journalists.

• Stories behind the music
Read our integrated music articles, features and interviews.

• Offline mode
Download albums, playlists and tracks, and bring your music with you anywhere using our offline mode for up to three devices.

• Favorites
Build your personal music collection simply by marking albums, artists, tracks and playlists as your favorite.

You can of course also create playlists, share with friends, listen to artist- or track-based radio, check out artist bios, find similar artists, edit your play queue and much more…

Sign up for a TIDAL subscription in the app, where you can choose between Premium and HiFi. The price of the subscription in your country can be found in the overview below. You will also be informed of the price in the app before signing up. The subscription is automatically renewed and charged on a monthly (30 day) basis. You can cancel it at any time up until the day before renewal and you can at any time turn off the auto renewal from your iTunes account.

Monthly HiFi prices:
HiFi US 25,99 USD / UK 25,99 GBP / AR 6,99 USD / AU 34,99 AUD / AT 25,99 EUR / BE 25,99 EUR / BR 12,99 USD / CA 25.99 CAD / CL 11,99 USD / CO 9,99 USD / CY 17,99 EUR / CZ 15,99 EUR / DK 259,00 DKK / DO 15,99 USD / EE 17,99 EUR / FI 25,99 EUR / FR 25,99 EUR / DE 25,99 EUR / GR 17,99 EUR / HK 138,00 HKD / HU 13,99 EUR / IS 25,99 EUR / IE 25,99 EUR / IL 79,90 NIS / IT 25,99 EUR / JM 15,99 USD / LV 17,99 EUR / LT 17,99 EUR / LU 25,99 EUR / MY 11,99 USD / MT 17,99 EUR / MX 259,00 MXD / NL 25,99 EUR / NZ 35,99 NZD / NG 13,99 USD / NO 259,00 NOK / PE 13,99 USD / PL 13,99 EUR / PT 17,99 EUR / RO 13,99 EUR / SG 25,98 SGD / SK 15,99 EUR / SI 17,99 EUR / ZA 269,99 R / ES 25,99 EUR / SE 279,00 SEK / CH 32,00 CHF / TH 15,99 USD / TR 34,99 TL

Monthly Premium prices:
US 12,99 USD / UK 12,99 GBP / AR 3,99 USD / AU 16,99 AUD / AT 12,99 EUR / BE 12,99 EUR / BR 6,49 USD / CA 14,99 CAD / CL 5,99 USD / CO 4,99 USD / CY 8,99 EUR / CZ 7,99 EUR / DK 129,00 DKK / DO 7,99 USD / EE 8,99 EUR / FI 12,99 EUR / FR 12,99 EUR / DE 12,99 EUR / GR 8,99 EUR / HK 68,00 HKD / HU 6,99 EUR / IS 12,99 EUR / IE 12,99 EUR / IL 39,90 NIS / IT 12,99 EUR / JM 7,99 USD / LV 8,99 EUR / LT 8,99 EUR / LU 12,99 EUR / MY 5,99 USD / MT 8,99 EUR / MX 139,00 MXD / NL 12,99 EUR / NZ 17,99 NZD / NG 6,99 USD / NO 129,00 NOK / PE 6,99 USD / PL 6,99 EUR / PT 8,99 EUR / RO 6,99 EUR / SG 12,98 SGD / SK 7,99 EUR / SI 8,99 EUR / ZA 139,99 R / ES 12,99 EUR / SE 149,00 SEK / CH 16,00 CHF / TH 8,99 USD / TR 15,99 TL

By signing up, you agree to TIDAL's Terms and Conditions of Use, Privacy Policy and Mobile Terms, see http://read.tidal.com/terms.php
...More
What's new in Version
2.3.1
Minor bugfixes.
...More
Customer Reviews
Tidal is good
Cost pretty high but so is quality. Interface not the most user friendly but works when you get used to it. Some surprising omissions but then again some pleasantly surprising inclusions too. Occasionally songs disappear but maybe that is beyond their control. All in all recommended especially if you can hear the extra quality.
Great sound but minor bug
Been using it for six months now, great music choices and superb sound .......... But songs keep sticking and won't even move onto the next track , you have to reload the album again
Please sort this out
Highly recommended
Easy to use, and for me great sound.
Modern recording quality is outstanding on many newer tracks

Sometimes, tracks appear to be added twice on play lists, not of my own doing.

I have asked the Helpdesk to add the feature that was available on my Sony mobile many years ago.
Playlist creation based on tempo / mood but there are no plans for this which is disappointing, but nevertheless, for £20 ppm this is a great high quality playback service.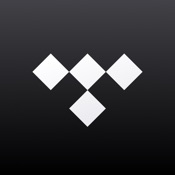 Download for Free
1 Archived versions available
This app is designed for both iPhone and iPad
iTunes Price: Free

Category:

Music

Updated:

08 January 2018

Version:

2.3.1

Size:

61.3 MB

Language:

English, Danish, French, German, Italian, Norwegian Bokmål, Polish, Portuguese, Spanish, Swedish

Seller:

TIDAL Music AS
© 2015 TIDAL
Requirements: Requires iOS 9.0 or later. Compatible with iPhone, iPad and iPod touch.
Top in-app purchases
TIDAL PREMIUM

£12.99

TIDAL HIFI

£25.99

TIDAL PREMIUM

£12.99

TIDAL PREMIUM

£9.99

TIDAL HIFI

£25.99

TIDAL HIFI

£19.49

TIDAL PREMIUM

£9.99

TIDAL HIFI

£19.49

TIDAL PREMIUM

£6.99

TIDAL PREMIUM

£10.49