PhotoScissors 2
By Maxim Gapchenko
Click on "Download Now" button under Icon to download this content for Free
Description
!!! This is outdated version, new version available at MAS:
https://itunes.apple.com/us/app/photoscissors-3/id1104791718?mt=12

PhotoScissors - Instantly Remove Background From Your Photos!
PhotoScissors background removal tool can easily extract objects and remove background from photos. All you need is to draw some foreground and background and algorithm takes care of details.

Top Reasons to use PhotoScissors:
*Instantly remove complex background from photos
*Easily separate foreground from background
*Swap background
*No limits by image size
*Cutting out objects
*Creating isolated images with colored or transparent backgrounds
*Remove background for eBay or Etsy listings
*Set background to any color include transparent
*Easy to get use & get started
*Preparing pictures of commodities for online shops
*Supports all popular graphic formats (PNG, JPG...)
*No technical or designer skills are required
...More
What's new in Version
2.1
*Added option to set image as background
*Improved edges handling(Edges Antialiasing), say 'Goodbye' to jagged borders
*Added option to change shadow color
...More
Customer Reviews
suggestions
This program used to do the processing without pressing command R; but somebody didn't like it. I liked it. There should be a button in preferences to give you a choice - you want to push command R all the time or you want it automatic.

Also it would be really great if there was a shortcut key to click the green + or the red - buttons. Then you wouldn't have to move the mouse to the corner and click all the time.

This is a very good product. Saves a lot of time and effort.
...More
Very handy tool for nonprofessionals
This easy-to-use software does a very good job of quickly removing backgrounds. A great feature is the side-by-side comparison of the original with the finished product, allowing the user to keep marking portions of the foreground or background until the final image looks as desired.
Nothing Short of Amazing
I have been tediously cutting out images for years. This program is fast and accurate! Love it!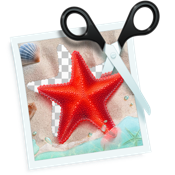 Download for Free
This app is designed for OS X
Mac App Store Price: $19.99

Category:

Photography (Mac)

Updated:

Aug 07, 2015

Version:

2.1

Size:

10.9 MB

Language:

Seller: Maxim Gapchenko

Seller:

Maxim Gapchenko
Requirements: OS X 10.7 or later, 64-bit processor