Good Morning - Alarm Clock
By Apalon Apps
Click on "Download Now" button under Icon or Open AppAddict app on iDevice to download this content for Free
Description
Good Morning Alarm Clock is a smart alarm clock that finds the optimal time to wake you up, keeps track of your sleep quality, and notifies you if you have a sleep debt.

HOW IT WORKS

Every night we go through different phases of sleep - from light to deep. The secret to waking up rested and feeling more energetic and alert upon awakening is to wake up during a period of your lightest sleep.

Good Morning Alarm Clock uses the iPhone's accelerometer to monitor your movements while you are sleeping and detect which sleep phase you are in based on your body movements.

It creates a 30-minute window before the wake-up time you set and goes off within this window while you're in the lightest phase of sleep so gently that it feels natural to wake up.

In the morning, you also get a nightly record of your sleep in the form of a graph along with the essential stats.

CORE FUNCTIONALITY:

* Good Morning Alarm Clock keeps track of your sleep phases and wakes you up gently at the perfect time to help you rise and truly shine in the morning.
* Every morning the app provides you with the statistics on your last night's sleep and easy-to-read sleep graph.
* Gives advice on Sleep Quality. Get tips on how your sleep can be improved along with your night stats.
* Aggregates weekly statistics for you. Thus you can track sleep debt, hours slept and quality of your sleep during the week and change your habits to sleep better.
* Sends you stats reminder: No chance to forget about healthy sleep habits with a weekly summary on Sleep Debt & Average Sleep Quality.
* Tracks your sleep even if the alarm is off: you don't need to set an alarm clock on Sunday or your day off to see how you slept this night.
* Gently wakes you up to your favorite music or pleasant alarm tunes.
* Provides weather forecast. Plan the day ahead easily - get the current weather conditions & forecast temperatures at your location.
* Lulls you to sleep at night. The app allows you to create your own playlist with your favorite songs or fall asleep to relaxing sounds.
* Supports iCloud Music Library
* Takes care of you. Set your Sleep Goal and Good Morning Alarm Clock will send you an alert message if it finds out that you get less sleep than you need.
* Works with Apple Health. Benefit the ability to export Asleep & In Bed stats to the Health app to store all your health data in one place.
* The app has 3D Touch support for iPhone 6s and iPhone 6s Plus. Just press Good Morning Alarm Clock icon to quickly access the most frequently used app features. Peek at your sleep stats for any night without having to actually open it with a light press, press a little deeper to Pop into it.

Sleep smarter and better. Wake up smoothly. Change your mornings forever.

Please note that movement from pets or a partner may impact results.

For complete access to all Good Morning Alarm Clock features, you will need to allow access to the following:

*Notifications – so the alarm will ring.
*Media Library Access – so that you can set your own music as an alarm sound.
*Health App – so you can export your data to Apple Health.
*Location – so you can receive the weather forecast for your area.

Privacy Policy: http://apalon.com/privacy_policy.html
EULA: http://www.apalon.com/terms_of_use.html
AdChoices: http://www.apalon.com/privacy_policy.html#4
...More
What's new in Version
1.7
- Performance and stability improvements. Optimized for iOS 11.

Thank you for your continued support and comments submitted by email! Don't hesitate to share your impressions and feedback with us via [email protected]
...More
Customer Reviews
Broke with the iOS 11 upgrade.
ETA:Fixed!! Working well now as of 11/28!!
This was a fantastic application, are used it every day. However since the last upgrade to make it work with iOS 11, it has not worked at all. Not even with iOS 11. I have to uninstall it and reinstall it every single night that I want to use it. I hope they fix it, especially since I'm using the paid version.
Worth every Penny
I had a history of over sleeping. But once I found this app, that changed. I lost so many jobs because of me over sleeping or turning off my alarm in my sleep. I love this app.
Ads, despite being a paid app
The app itself works well.

However, constant prompts to download developer's other apps are really annoying. I shouldn't have to see them having paid for the app.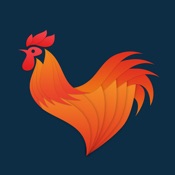 Download for Free
5 Archived versions available
This app is designed for both iPhone and iPad
iTunes Price: $4.99

Category:

Health & Fitness

Updated:

Oct 27, 2017

Version:

1.7

Size:

63.7 MB

Language:

English, French, German, Italian, Japanese, Korean, Portuguese, Russian, Simplified Chinese, Spanish, Turkish

Seller:

Apalon Apps
© 2014-2017 IAC Search & Media Technologies Limited
Requirements: Requires iOS 9.0 or later. Compatible with iPhone, iPad, and iPod touch.