Orion Label Maker
By Aidaluu Inc.
Click on "Download Now" button under Icon to download this content for Free
Description
An all-in-one solution for designing and printing labels right from your Mac.

Intuitive drag and drop designer
Orion Label Maker provides you with a simple to use drag and drop design editor. Design with beautiful fonts, colors, custom photos, lines and shapes.

For mailing labels, address labels, shipping labels and many more!
Supports HUNDREDS of different label templates.

Multiple print options
Whether you're printing just a single label, partial sheets, full template sheets or batch generating personalized labels from Contacts, this app helps you get the job done, quickly and efficiently!

Simple and powerful
Simple and intuitive enough for new users to start using with zero learning curve. Packed with powerful features that will meet business and professional print shop needs.

Beautiful fonts and colors
Format your label however you want with true free form layout and support for multiple layers

Custom photos, shapes, lines and table grids
Drag and drop to add and resize photos, shapes, lines and table grids.

Exports to high resolution images
Print within the app or export high resolution designs for transfer to professional print shops.

Save and reuse
Fully independent desktop app, saves labels locally at your selected location. Reopen saved projects for easy editing and reprint at any time.

Fast search
Searches through saved labels to help you find the label you're looking for.

Integration with Contacts
Advanced integration with Contacts plus support for personalization tags
Allows you to design a single personalized label template and then automatically generate individual label designs for contacts selected from the address book.

Rotate Canvas
Supports printing labels in standard portrait as well as landscape mode

Print Offset
Allow you to specify any custom printing starting spot, so you can fully use any label sheets left over from previous printing sessions

Hundreds of templates
Hundreds of templates supported. If you happen to work with a unique template model that's not here, please let us know and we can always add it in for you.

To learn more, please visit support site at https://orion.aidaluu.com/
...More
What's new in Version
3.30
- improved label selection panel, making it easier to choose the template for your specific label paper and label size
- added support for oval shaped labels
- added support for 12 per A4 sheet labels, each label measuring 105mm X 49mm
- added support for 8 per A4 sheet labels, each label measuring 105mm X 74mm
- added support for 10 per A4 sheet labels, each label measuring 97mm X 50mm
- added support for 21 per A4 sheet labels, each label measuring 70mm X 41mm
- added support for 18 per A4 sheet labels, each label measuring 63.5mm X 46.6mm
- bug fixes and performance improvements
...More
Customer Reviews
Good but needs improving
This does what I need it to do. I create labels for soapmaking and there are plenty of options to fit all the sizes I need. The problem is that I cannot "open" a file from the app. I have to open it from Finder on my mac teh link is greyed out when I attempt through the application. I also cannot add to a file after it has been closed. I use a lot of the same ingredients so I like to duplicate my label and change the few things that need to be updated. I cannot duplicate if I close and reopen a file, which is extremely frustrating as I am constantly adding new soaps to my shop. If those features would be fixed I would love this app but right now it is all that I can find to use. If I found something that did let me duplicate and edit previous work I would drop this in a heartbeat.
...More
Just purchased-Disappointing . Save your $$$
I just bought this. I don't feel like it is very user friendly or intuitive. I am a long time Mac user. I don't feel like it works the way it should. One example. I was trying to make labels from my contacts. So I hope New.. and then I drag Full Adress into the active window(I forget what they call white area(. Now it tells me the font size is "57". But yet when it prints it is very small. Strange. And saving or generating a list caused the program to spin and spin. Well, I have 24 GB of RAM and using OS Sierra. It should be a lot easier than this. I want my money back. I did send a question to Support and all I got back was read the manual and watch a video. Well, i have read the manual and watched the video.. still didn't answer my questions. Sorry.
...More
Bad App
It sounded like a great app to make my Christmas labels. What a disappointment.
I could not even open it.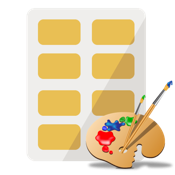 Download for Free
5 Archived versions available
This app is designed for OS X
Mac App Store Price: $6.99

Category:

Lifestyle (Mac)

Updated:

Sep 23, 2017

Version:

3.30

Size:

41.9 MB

Language:

English, Dutch, French, German, Italian, Simplified Chinese, Spanish

Seller:

Aidaluu Inc.
© Aidaluu Inc.
Requirements: OS X 10.10 or later, 64-bit processor