Infinite Tanks
By Atypical Games
Click on "Download Now" button under Icon or Open AppAddict app on iDevice to download this content for Free
Description
Infinite Tanks features exactly what the name suggests – huge content - never ending lines of modern combat vehicles, huge environments with realistic weather, online multiplayer and countless single player missions and drills. Infinite Tanks also upgrades the tank sim genre by giving players the ability to design and upgrade their own impenetrable vehicles, allowing them to truly step into the driver's seat. The game features an innovative card-driven building system, which allows players to mix, match and trade individual tank parts, including engines, bodies, tracks, turrets, mines, mortars, upgrades and obviously guns, to create an incredibly diverse array of powerful and versatile vehicles. Infinite Tanks is pushing the boundaries with modern graphics and exceptionally deep gameplay. Features A unique card-driven construction system, driven by single-player progression and multiplayer collaboration. Hundreds of million different vehicle combinations, plus aesthetic customization such as paint and accessories. tanks, destroyers, hovercrafts and rocket launchers, each in 3 different classes. 360 drills with quick, intense action. Sweeping, epic single-player campaign. Different environments, from sun scorched deserts to dense urban areas, with expansive space for gameplay and exploration. Custom games, including King of the Hill, Capture the Bases, and Team Deathmatch both online and offline. 60 levels of progression, most varied classes of tanks and an impressive arsenal of weapons and projectiles. Incredible realism: changing weather, sun crossing the sky, realistic physics and damage system. Cross platform multiplayer between iOS, macOS and tvOS Takes advantage of Metal, iCloud, GameCenter, Replay Kit and AirPlay Supports MFi controller Localized in over 10 languages
...More
What's new in Version
1.0.6
Added iPhone X support.
We fixed visual problems showing up on iOS11.
...More
Customer Reviews
Best tank game ever!
Infinite tanks is awesome. I love how you can make your own tanks. I wish getting rocket parts wasn't so hard. I play this game every day and I played only two hours ago. I built a new tank with an hp of 1305. Oh I forgot to mention, I'm only level 16. But I have already beat the campaign. I love to play online and play against all the level 90 players. Thank you so much for boosting my health to much higher and increasing everything on my tank to a higher level. I love to watch myself get squished by all the awesome players. At first it was annoying but then I celebrated when I got my penetration against another online player. I also like to smash cpu tanks in custom mode. They can never penetrate my heavy's armor, take that computer! Anyways thanks so much for creating this awesome game!
...More
Best game of it's kind.
I think this is the most addictive game I've played. The graphics and sound are great. I just can't say enough good things about it. A little strategy is required for example when you engage with the enemy many times if you separate from the main body of your group and attack from another direction you will be more successful at defeating the enemy.
Worth every penny...
Fun, challenging, and you can improve as you play. Well done in every way. Thank you!
Only issue so far is the reward system ... doesn't seem to work every time. Just completed all daily tasks listed on the rewards screen. No daily reward, and no other awards seemed to show up?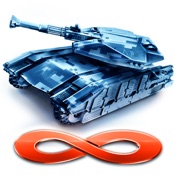 Download for Free
5 Archived versions available
This app is designed for both iPhone and iPad
iTunes Price: $4.99

Category:

Games

Updated:

Nov 07, 2017

Version:

1.0.6

Size:

2.42 GB

Language:

English, French, German, Italian, Japanese, Korean, Portuguese, Russian, Simplified Chinese, Spanish

Seller:

Atypical Games
© Atypical Games s.r.l.
Requirements: Requires iOS 9.0 or later. Compatible with iPhone, iPad, and iPod touch.